Do you live with a roommate?  When I lived with my sister, we used to buy our own food.  She would cook her dinner and I would cook mine.  Since I love to grocery shop and cook, when I moved in with my new roommate (aka roomie), we decided that I would be in charge of food.
At first this was a a juggle.  He was used to spending $20 a week in groceries, having pasta at least 3 of those nights.  I'm not a big pasta person.  I have this "fat girl syndrome" where I need to eat a lot of food to feel full, so I choose high volume/low calorie foods.  I used to eat a large salad most nights for dinner.  Living with roomie has forced me to get creative in the kitchen.  Most nights, we eat the same thing.  But on occasion, I'll get creative, making two meals from one recipe.  My inspiration for this meal was a bunch of curly parsley.  My herbs always go bad so I try to find unique recipes to use them. I decided to make a creamy pesto using the parsley.  Pesto is typically made with pine nuts and basil.  Flat leaf parsley would work better if you have it but if not, the curly was still tasty!
Almond & Parsley Creamy Pesto (Makes 4 Servings) Time: 15 minutes

Ingredients:
1 bunch of Flat Leaf Parsley (I used curly because it was all I had)
1/4 Slivered or Whole Raw Almonds (ground up to a fine consistency or almond Meal)
1 clove of Garlic (chopped or pressed)
3 TBSP of Extra Virgin Olive Oil
2 Laughing Cow Wedge Light
1 teaspoon of fresh Lemon Juice
Salt and Pepper to Taste
Directions:
Grind almonds in a food processor until they are a smooth fine consistency.  Add in about 4 cups of parsley (stemmed, washed and dried), 1 chopped clove of garlic, 1 teaspoon of lemon juice, and 3 tablespoons of extra virgin olive oil.  Pulse until mixture is a fine consistency. 
Next add in 2 wedges of Laughing Cow Light.  I used the Original Swiss but feel free to try the garlic and herb or sun dried tomato varieties for added flavor.  Add salt and pepper to taste.  Your pesto recipe is now ready to be added to your favorite dishes.
Dinner Time:  I boiled a pot of water and added in roomie's favorite bow tie pasta.  Next, I heated some pesto in a frying pan and sauteed baby Portabella mushrooms and sun dried tomatoes.  Once the mushrooms were no longer stiff, I put them to the side and added another teaspoon of pesto and pan fried a chicken breast.  Once the chicken was done I added some baby spinach to the pan I used for the chicken.  While it was wilting, the pasta was ready.  I drained the water and added the pasta back to the pot.  I then added 2 TBSP of the creamy pesto to the passed and tossed it around.  I removed the pesto pasta from the pot and added in my wilted spinach to pick up the rest of the creamy pesto remaining on the side of the pan.
Roomie made meatballs on Sunday so he added a couple to his plate after I took my picture!
I think the mushrooms and tomatoes were my favorite part!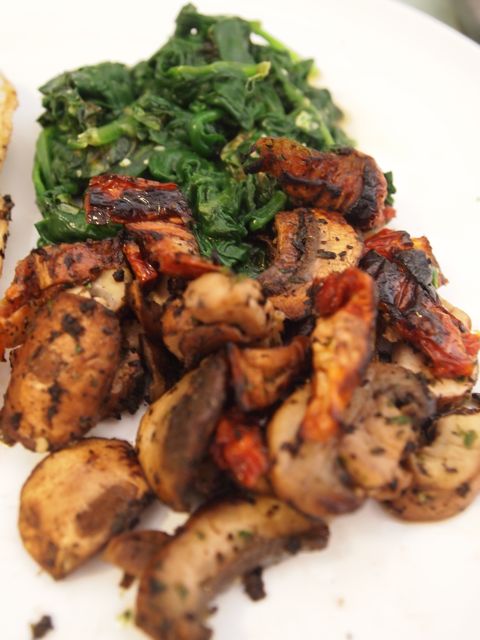 I thought I was still hungry after I finished my meal, but I ended up not wanting anything else.  The Laughing Cow Wedge also I think really made the recipe stand out.  When I tasted it before adding in the cheese, it was OK.  Afterwards, the creaminess made the dish.  I would try this recipe with walnuts or pine nuts too but I wanted to use what I had on hand.    Creamy pesto may sound like it is sinful but this dish proves it's doesn't have to be!
Do you cook for someone else?  Did you gain weight when you first moved in with your significant other? What do you do for dinner and meals?
 Disclaimer: I am a Laughing Cow Community Leader because I love their products, like a lot.  Read more about my relationship here.