Making a healthy breakfast is one of my favorite things to do. I post mostly breakfast recipes on here because I find they are prettier than most of the other meals I eat to photograph. I tend to be a grilled chicken or fish type girl with whatever veggies I buy on sale.  No real recipes or creativity. I make my lunch in dinner in minutes.
It's no surprise that I'm obsessed with the protein pancake. I've seen many bloggers publish their own versions but the real credit goes out to the Tone It Up diet plan. Since discovering my love affair with the protein pancake, I've been trying to put my spin on it.  Each time, it comes out slightly different.  From pumpkin to cottage cheese to Greek yogurt (Julie from PBFingers makes one like this but mine was gross), I was always happy with the result but never wowed until now.
Last winter, I used to have oatmeal every morning with 2 hard-boiled egg whites or some protein powder mixed in. This morning I blended my two loves together and made a beautiful marriage.  I think roomie would agree these would taste better than most restaurant pancakes with real butter and maple syrup.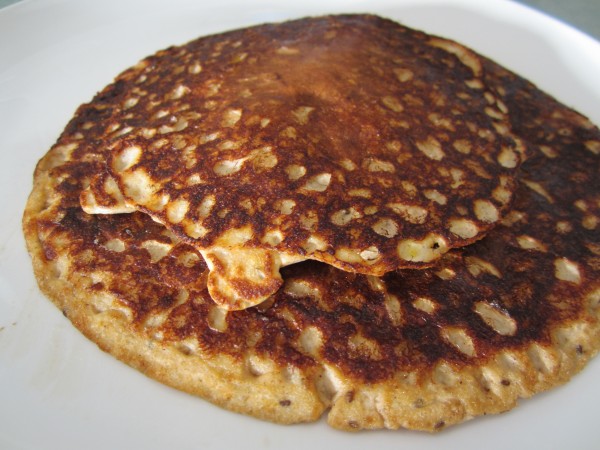 Apple Cinnamon Oatmeal Pancakes
 Makes: 2 servings
Prep Time: 30 minutes (or overnight)
Cooking Time: 6 minutes
Ingredients:
1/4 cup of Rolled Oats
1 small Apple (chopped finely)
1/2 tbsp Chia Seeds
1 tsp Cinnamon
5 drops of liquid stevia like NuNaturals (you may also use a packet of stevia, sugar or other sweetener) *optional
1.5 cups Water
1/4 cup plus 2 tbsp Egg Whites (or 4 Egg Whites or 2 Eggs plus 1 Egg White)
2 scoops Vanilla Whey Protein Powder
1/8 tsp Baking Soda (I have made this recipe without these ingredients and it turns out fine)
1/4 tsp Baking Powder (I have made this recipe without these ingredients and it turns out fine)
Directions:
I made my oatmeal using my rice cooker by combining the first 5 ingredients and stirring occasionally for about 2 hours.  I did this after dinner and unplugged it right before bed.  You can also boil the water, add in the oats, apple, chia, cinnamon and stevia and simmer for 20 -30 minutes or until water is absorbed.  This is too much water but the oats will expand and chia seed will soak it up too. 
This is why it's fun to make the oatmeal the night before.  Add in the already cooked apple cinnamon oatmeal to a bowl combining with the egg whites, protein powder, baking soda and baking powder.  If you are only making one serving, use just 1/2 cup of the oatmeal 1 scoop of protein powder and only 3 tbsp of egg whites.  Blend with an immersion blender, blender or fork.  Spray a pre-heated pan on medium and add mixture.
Once the bottom is settled and easy to flip, turn and cook for another 2-3 minutes.  Serve with maple syrup, heated peanut butter, extra oatmeal, Greek yogurt or plain if you're like me.  Below is a typical breakfast for me: Protein pancake with a 1/2 grapefruit, water and coffee! YUM!