Sometimes life seems to pass in the blink of an eye.  It's a cliché saying but very, very true.  During the day, I'm so busy checking things off my to-do list that I find it troublesome to think of new ideas.  The last thing I think about is, "What's for dinner?" lately.  As a stay at home roommate, I enjoy cooking dinner.  I try to cook every night, a challenge too difficult for most working parents or young professionals. 
My go-to dinner when I just don't have the time to plan is a frozen stir fry with quinoa (takes only 15 minutes) or already cooked brown rice.  One can only have so many sautéed dinners a winter.  Given the state of our nations health, there are now more options for families who want home cooked meals but don't have the time to plan and prep.  I was invited to visit a small business in Wellesley, MA called Healthy Habits Kitchen a few weeks ago.  Healthy Habits Kitchen prepares meals for 2 – 6 people (Small=2-3 servings, Large=4-6 servings).  Using organic and seasonal produce from local farmers markets, they prepare nutritious meals for people on the go.  The food is not cooked so you can make it whenever ready. 
Most meals are also freezable.  They come neatly packaged with the ingredients separated.  All you have to do is read the directions and follow along.  It's as easy as my favorite Trader Joe's stir fry.  For one serving, the pricing point averages at $5 which is not bad when you think of what you can actually get if you were to get take out from a favorite healthy restaurant.
This is the assembly line for how the meals get put together.  I feel like I should do this at home with my favorite meals.  Maybe give them out to family and friends?  Sounds like a fun idea, right?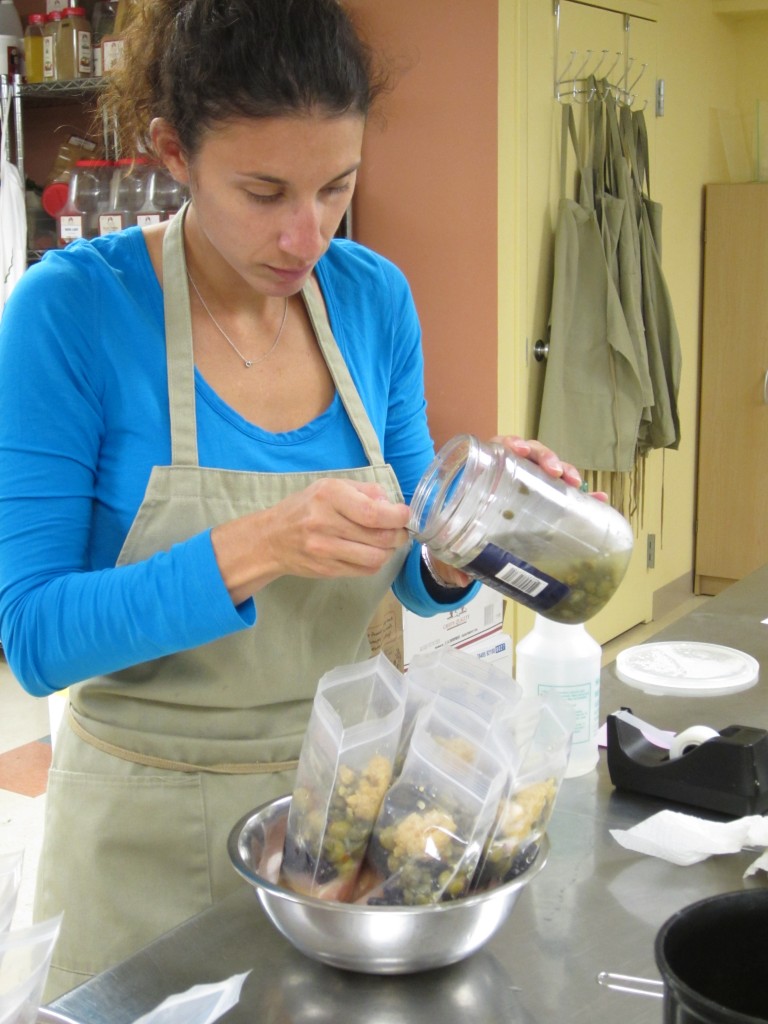 You can actually host a meal assembly party at the kitchen with friends and do just that.  You don't pay to have the party but you do pay for the food you prepare.  There is a minimum participants must pay but when a neighbor has a baby, this is perfect welcome gift for the new family you have stored!  It's also fun for a girls night, as the wine glasses are well stocked and it's BYO.
The dry ingredients are prepared separately and ready to be placed inside the boxes.  All the meals are measured and the nutrition is calculated and approved by a dietitian.
Once the meals are ready to go, they are stored in giant freezers.  When customers come by they can choose what they like.  Each meal takes only 10-30 minutes to prepare.  The menu is online and you can pick up your meals Monday-Friday in Wellesley, MA but also at a few farmers markets as well!
I brought home the Cocoa-Coffee Rubbed Pork w/Root Beer Cream Sauce to test out myself in my own kitchen.  I also snagged the mashed sweet potato side dish.  While I probably would not order a dish like this in a restaurant, I wanted to give Carol, the owner the ability to let me try what she thought would be good.
The sweet potato mash was easy. I just put it in a small casserole dish and placed it in the over.
Next I placed the pork chops in a dish and drizzled with olive oil.  Then I rubbed it with the cocoa/coffee mixture. 
In a preheated skillet, I seared each side of the pork chops and placed back in the dish to bake for 30 minutes. 
While the pork was cooking, I sauteed the onions they gave me pre-chopped, adding in the root beer mixture a few minutes later and letting the sauce simmer and reduce.  The last step is to add a dollop of sour cream to the sauce.
At the end, you plate the dish by drizzling the sauce over the cooked pork chops and add a scoop of mashed sweet potatoes.  The portion size was the small which feed 2-3 people.  It was more than enough for roomie and I.  Although he was not a fan of the dish, I thought it was very good.  I think cocoa/coffee and root beer are tricky flavors.  You either like it or you don't.  Roomie did not, so that meant more for me 🙂
I added some greens as well because I'm the salad girl.
Do you have a meal service like this near you? If so, do you use it?  It's cheaper than going out to dinner and a great option if you work late and want a healthy meal that tastes homemade without the hassle.  If I lived in Wellesley, I would use Healthy Habits Kitchen instead of my habitual, "We don't have anything to eat, let's get sushi delivered."