Things I miss about college include living next door to my girlfriends, swapping clothes with my girlfriends, having the energy to go out hard 3-4 nights a week and having absolutely nothing to do during vacation breaks. 
I am not complaining but when you work for yourself you do not have time off, especially paid time off. A vacation means you do not make money. So while self employed individuals potentially can take off 300 days a year, bills would inevitably be hard to pay. I was feeling overwhelmed going into Christmas so I decided to take a break for five days. That may not seem a like a lot but for me it was! Here is how I spent my days "off".
Christmas Eve was spent with my family in Cape Cod. I ran 6 miles before breakfast in the foggy weather.
We had lunch as a family and then headed to church. My 18 month old niece loved the music luckily.
We watched the classics including "It's a Wonderful Life" and "Elf" before falling asleep. 
For breakfast, we had our traditional homemade coffee cake and quiches before opening up presents. This coffee cake is not healthy, but worth every calorie. At least it is homemade, right? 
For Christmas, I told my mom I wanted a pair of the Cholea adidas winter boots from Athleta. Yes, I work with adidas but me wanting these boots had nothing to do with any sponsorship, I promise! They look like high tops but are winter boots to keep your feet warm and dry. I wanted something to wear to work, specifically when I teach at Barry's Bootcamp, that would not get ruined with a little snow – like Uggs. These seemed like the perfect fit. I cannot find them in stock anywhere online so I'm glad my mom ordered them when she did around Black Friday. A manager from Athleta in Illinois shared on my Instagram pictures that they have the hardest time keeping them in stock! I had no idea they were such a hot item. I wanted them in black but even months ago grey was all they had left. 
Roomie got me more fit gear to help me with my next fitness challenge, the Boston Marathon. As of right now, I will be running the Boston Marathon! To help with my training runs during the cold winter months, he bought me an adorable Lululemon top, ear warmer and gloves that all match. The top is called the Rulu Think Fast Pullover. The 4 fits me perfectly.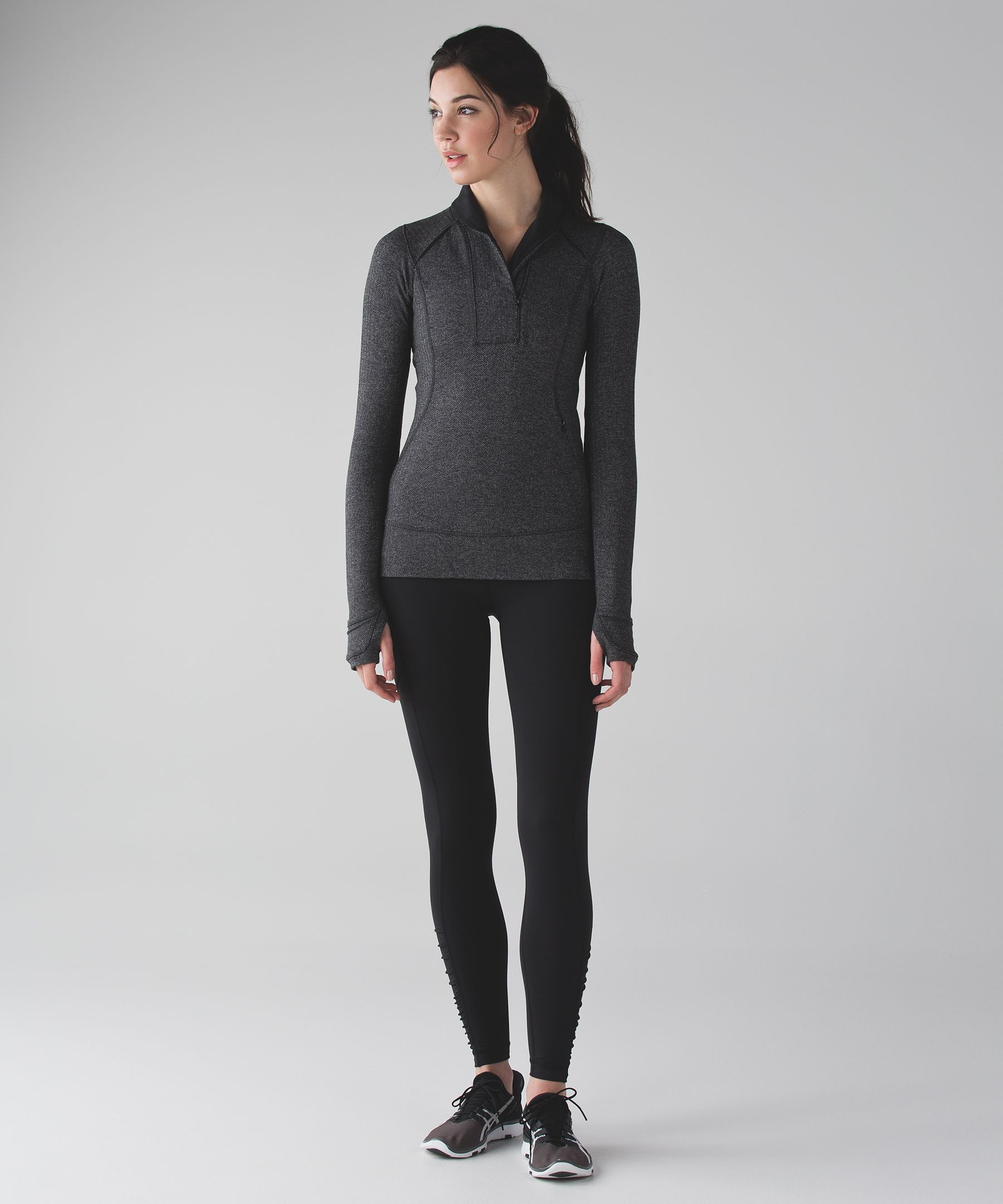 Since we just moved, I also asked for gifts to decorate the new place like picture frames and home decor magazines. I felt like it was a really good Christmas and the gifts I got were practical. After gifts, Roomie and I did a little yoga together for about a half hour. This is my attempt to take a picture for the blog which just looks stupid but whatever. I'm still posting it. 
For my second round of marathon training, I'm going to try to do yoga at least once a week as well as continue to go to Barry's for speed work. 
On Friday, I went to The Club by George Foreman for their BoxFiit 360 signature class. I'm purposely waiting to write a review until I try another instructor. I liked it, but did not love it. I think my opinion may change based on the instructor which is why I'm waiting to share. Friday night, I went to see Unbroken despite my intense dislike towards all things Angelina Jolie. It was OK. Definitely not a movie to bring your 4 year old to, which unfortunately is exactly what the woman sitting next to me did. 
Saturday was a long 11.5 mile run along the Charles River and Sunday was a yoga class at CorePower in Medford. So while I took a vacation from blogging, I did not take a break from exercising. It was like a stay-cation. Add in a lot of cooking, cleaning, sleeping plus a little shopping and that is what I did on my 5 day vacation. 
In case you missed it, my video from last week is a good one. If you are still wondering if your thighs will get bulky from spinning, you need to watch it! I just needed to rest and relax and that is exactly what I did. 
Is it me or does it seem like everyone took a two week vacation?
I'll be teaching extra classes this week at Burn Fitness Studios so be sure to check out the schedule including Friday morning Power Burn at 7am and Saturday Tabata at 11am. I'll be at Barry's tomorrow, Wednesday and Friday at 9am as planned. Sign up and get a jump start on your resolutions 🙂 New YouTube video tomorrow featuring resolution advice to beat binge eating.